Clear aligner therapy has rapidly evolved as a preferred choice for orthodontic treatment. This success is attributed to continuous research and advancements that have pushed the boundaries of orthodontics.
In this concise blog post, we will explore the realm of clear aligner research and advancements, delving into how ongoing innovations are shaping the future of orthodontics.
Advancements in Material Science:
Material science plays a pivotal role in the success of clear aligner technology. Research efforts have led to the development of more durable, transparent, and flexible materials, significantly enhancing patient comfort and aesthetics.
These advancements allow aligners to exert optimal forces for tooth movement, resulting in more predictable treatment outcomes.
Smart Tracking and Treatment Monitoring:
The integration of advanced technology has revolutionized clear aligner treatment monitoring. Research has focused on the development of smart tracking systems, including artificial intelligence and machine learning algorithms, which analyze patient progress.
These systems provide valuable insights into treatment efficacy, enabling real-time adjustments and improving patient outcomes.
Accelerated Orthodontic Treatment: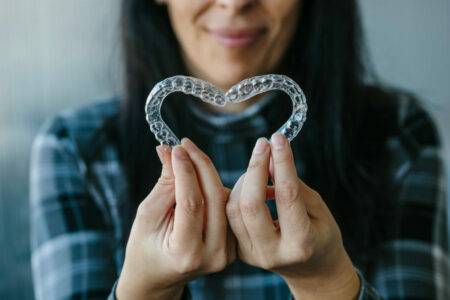 Researchers are actively exploring methods to accelerate orthodontic treatment using clear aligners. Novel techniques, such as vibrational devices or photobiomodulation, aim to stimulate tooth movement and reduce treatment duration.
These advancements hold great potential for optimizing patient experience and shortening treatment timelines.
Predictive Treatment Planning:
Clear aligner research also focuses on refining treatment planning processes. With the aid of sophisticated software and three-dimensional imaging, dental professionals can accurately predict tooth movement and simulate treatment outcomes.
This enables precise treatment planning, allowing for efficient and effective orthodontic care.
Expansion of Indications:
Clear aligner research continues to expand the range of orthodontic indications that can be effectively treated with aligners. Initially limited to mild to moderate cases, advancements in research have broadened the scope of aligner therapy to include more complex malocclusions, such as crowding, spacing, overbites, and crossbites.
This expansion provides patients with a wider array of treatment options and promotes the adoption of clear aligners in diverse orthodontic scenarios.
Clear aligner research and advancements are propelling the field of orthodontics into the future. Ongoing innovations in material science, treatment monitoring, accelerated treatment, predictive planning, and expanded indications are revolutionizing the way dental professionals approach orthodontic care.
By staying abreast of the latest research findings and embracing emerging technologies, dental professionals can offer patients enhanced treatment experiences and achieve exceptional outcomes.
At ODONTO, we are committed to staying at the forefront of clear aligner research and advancements. Our dedication to continuous improvement allows us to provide dental professionals with cutting-edge solutions that deliver remarkable results.
By harnessing the power of research and advancements, we strive to shape the future of orthodontics and elevate the standard of care in clear aligner therapy.