How to choose a Clear Aligners Provider?
Clear Aligners or Invisible Braces is a fashion trend in 2022. With a large number of clear aligner companies getting venture funded as a part of the healthtech boom, advertisements about clear aligners and how they can be used to correct teeth alignment have become almost mainstream.
This surge in advertisements and market development investments have resulted in awareness for orthodontics and caused a large surge in the market for orthodontic treatment, especially clear aligners or invisible braces.
Dentists at private practices are also getting a lot of patients who are asking for clear aligners treatment. And clear aligners give the best results if provided in a clinical environment of a dental clinic under the direct monitoring and guidance of a registered and qualified dentist. Do-it-yourself clear aligners and at home aligners with virtual consultation is a very risky proposition.
It is very difficult to gauge the anatomy and the exact orthodontic requirement without a physical examination of your mouth and teeth. Hence, while there are a lot of companies out there who claim that you can get clear aligners without the direct involvement of dentists, it is highly recommended that you get clear aligners at a dental clinic.
Hence, dentists need to provide clear aligners at their clinics and there are multiple providers of clear aligners with different brands, different materials and different processes. ODONTO Clear aligners are also one such brand which dentists can use to provide clear aligners or invisible braces treatments to their patients.
So, with so many options of companies who can provide clear aligners, let us list down a few important features dentists must consider before choosing the clear aligner system for their patients.
Which 3D Design System does the aligner company use?
Who are the designing Orthodontists & what are the principles?
What are Movement Thresholds per aligner?
Which cases can be done with aligners?
Which material is used for making the aligners?
What is the training & support you give to the prescribing dentists?
What is the Process for Case Submission?
What is the Delivery Time for the aligners?
What are terms for Refinements & Reboots?
What is the price or cost of the treatment?
What is the value system of the company with regards to clinical protocols?
1. Which 3D Design System does the aligner company use?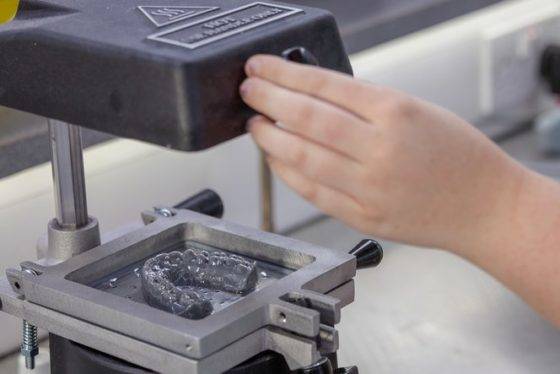 Clear Aligners are based on simulated 3D treatment plans designed on a CAD (Computer assisted Design) software. While there are many design softwares available in the market for designing orthodontic and clear aligner treatment plans, the most common treatment planning systems are from 3Shape, Denmark and 3DMaestro, Italy.
Most companies use either one of the two systems. Both the systems work on similar principles and operational structure. If your aligner provider is using any other system, you must conduct a diligence check on the effectiveness and efficiency of treatment plans of these softwares.
Ask the provider for details of the design software the aligner provider uses for treatment planning & visit the software providers website to get comfort on the same.
2. Who are the designing Orthodontists & what are the principles?
The software, the aligners, and the provider company are only enablers. The most important aspect of any treatment plan is the understanding, skill & experience of the orthodontist planning the treatment. Most companies have qualified orthodontists who plan the treatment. You must be aware of the experience, qualifications, and skills of the planning orthodontist.
It is very important to confirm that the treatment planning is done by a qualified and trained orthodontist. So, ask your aligner provider for the details of the treatment planning process and the qualifications of the person who will plan the treatment.
At ODONTO Clear Aligners, we use 3Shape Systems to plan our clear aligner cases. We have designed more than 30,000 clear aligner cases and work with more than 2000 prescribing dentists who are very happy with our treatment plans.
3. What are Movement Thresholds per aligner & views on complex cases?
Clear Aligners treatment has a series of aligner trays which incrementally move teeth. The increments or extent of movement in each are decided by the planning orthodontists and the system designers. Most aligner companies have a maximum of 0.2 mm threshold of movement per aligner.
Knowing this is very important because it will help you to understand the approximate number of aligners in case by dividing the maximum movement of the most moved tooth with the threshold per aligner.
Example, if you have a diastema case where one of the lateral incisors is according to the maximum movement as compared to all other teeth, then you can determine the approximate distance between the current position of the incisor and the final desired position of the incisor.
Lets, assume that you want to move the incisor by 2 mm. Lets also assume that your aligner provider stated that the maximum movement per aligner for their system is 0.2 mm, then in this case the number of trays will be approximately 2/0.2 which is 10 sets of trays. But you must understand that this an approximation and there are many other factors that impact the number of aligner trays like staging (sequence of movements, eg. You may have to move an adjacent tooth to create room for movement), requirement of IPR or interproximal reduction, requirement of expansion etc. But knowing the movement thresholds is important so that you can provide the correct treatment plans and estimates to your patients during the quotation & diagnostic appointments.
At ODONTO Clear Aligners, we generally follow 0.2 mm as the maximum movement per tooth per aligner. We have similar thresholds for rotation, extrusion and intrusion. Attend our ODONTO Clear Aligners Provider Program to learn more. Click here to learn more.
4. Which cases can be done with aligners?
One must understand that since clear aligners work by only pushing teeth there are some inherent limitations of clear aligners as a treatment. Not all orthodontic movements and cases can be done with clear aligners.
Also, one must also bear in mind that in certain orthodontic cases, traditional orthodontics are more efficient and effective than clear aligners and hence mandate that the patient be informed that its better if the case was done using traditional orthodontics.
Most aligner companies conduct training programs on their system and working principles for the prescribing dentists. In these trainings you should be ideally informed about what the most suitable cases for clear aligners are.
It is important that you refer to this information and understand the limitations of the clear aligners system very clearly. This will help you to provide better estimates of prognosis and treatment time to your patients. It will ensure better patient satisfaction and prevent bad prognosis.
Ask your clear aligners providers about the cases that are most suitable, attend the training program diligently and choose between clear aligners & traditional braces depending on the case requirements and after considering the limitations of clear aligners.
At ODONTO Clear Aligners, we are very transparent and clear on which cases we can do and which we cannot. We will never take up a case which we are not sure about and hence you are in safe hands.
5. Which material is used for making the aligners?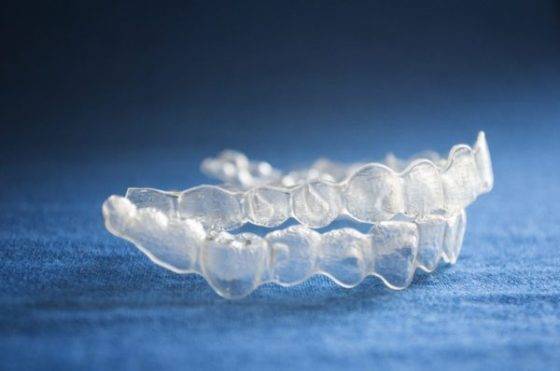 Different aligners companies use different materials for making the clear aligners. Generally, the clear aligners by vacuum forming transparent sheets of PU, TPU, PETG or a multi-layered sheet of a combination of two or more of these materials.
While all the materials have been tested and have provided good results, each one of them have limitations and the design protocols are as per the material that the clear aligner company uses. PU and PETG are relatively hard so movements are faster but there are times when aligners crack. PETG is stain resistant, while PU stains very easily. TPU is a softer material but movements become slow due to which the number of aligners may increase and treatment time may be longer.
Multi-layered sheets provide a blend of benefits of both the materials, but they are expensive and stain very easily. Hence, the clear aligner provider company has to ensure that the design protocols are as per the materials limitations to provide the best possible results, its good to know which material is being used for making the clear aligners.
ODONTO Clear Aligners uses PETG sheets of 0.8 mm for making clear aligners. Our aligners are stain resistant, have high transparency and hence very smooth edges for perfect patient comfort.
6. What is the Process for Case Submission?
Generally the process of case submission and management is more or less similar to all clear aligner provider companies.
Step 1: Send the pre-operative photographs to check suitability of the case and get a quote for approximate number of aligners or the complexity grade or category (simple, intermediate or complex).
Step 2: Send the intra oral scan to the clear aligner company.
Step 3: Get a virtual setup or treatment plan from the clear aligners provider.
Step 4: Approve the treatment plan after any changes if required.
Step 5: Get your clear aligners by courier / logistics provider. Step 6: Bond attachments and perform IPR.
Step 7: Deliver the clear aligners to the patient.
You must understand the process which your clear aligners provider company follows. Some companies use a tech platform, some follow a distribution channel with sales people, some communicate and share the information over email etc.
You must have a detailed understanding of the process so that the treatment planning process, logistics and delivery of the clear aligners from the clear aligners provider is smooth & efficient.
7. What is the Delivery Time for the aligners?
Different companies providing clear aligners have different timelines. Get a delivery time commitment before engaging with the clear aligner provider company. This is important because your patient will want the clear aligners as soon as possible or at least as per your commitments on delivery.
So to ensure that you do not make promises that you cannot honor, get the best estimate from your aligner company for the delivery period and add a contingency of at least a week and commit a delivery date to your patient.
8. What are terms for Refinements & Reboots?
Refinements and Reboots are required when either the results of the treatment do not pan out as expected or if the next aligner tray of the patient does not fit. Different clear aligner companies have different policies on reboots and refinements.
While some clear aligner companies provide free refinements and reboots by factoring in the cost of reboots and refinements in the cost of the total treatment, some charge for reboots and refinements at actuals.
You must know the policy of your clear aligners provider company to decide your pricing to the patient. This will ensure that your relationship with the clear aligners company as well as your patient remains cordial.
9. What is the price or cost of the treatment?
Last but not least you must take a clear quotation for understanding of the cost or price of clear aligners by your clear aligners company.
Most clear aligners companies have packages based on complexity and number of clear aligners required for each case. Based on the packages, you will be able to decide your price for clear aligners treatments that you need to charge your patients.
10. What is the training & support you give to the prescribing dentists?
Most clear aligners companies provide a training program for their clear aligners systems and insist that you attend the training program before starting with your clear aligners practice.
This is done because the clear aligner companies know and acknowledge that the treatment prognosis is highly dependent on the prescribing dentists diagnosis, ancillary procedures like attachment bonding & IPR, case monitoring and follow-up of the treatment.
It is important the prescribing dentist knows the clear aligners systems and is aware of the strengths and limitations of the system to identify cases that are suitable and will provide good results with the clear aligners treatment.
In most cases where clear aligners fail to provide a good prognosis are cases where the selection of the case was incorrect. Hence, you must attend the training to learn how to select and identify cases which are suitable to be treated with clear aligners.
Clear Aligners treatment also requires some ancillary procedures like bonding of attachments and performing IPR or interproximal reduction.
The training program provides inputs and understanding to the prescribing dentists to perform these procedures successfully to ensure perfect fit and performance of the aligners.
Case monitoring is also very important. It is recommended that you see an ongoing clear aligner patient at least once every 3 months to ensure that the treatment is as per schedule and the movements are as planned.
Since clear aligners are worn by the patient for 20 to 22 hours every day, bad oral hygiene in clear aligners patients can be disastrous.
Decay, bad breath and periodontal issues can accelerate and cause other dental problems. This can be prevented by conducting a check-up and follow-up session once every 3 months.
11. What is the value system of the company with regards to clinical and orthodontic protocols?
With increasing competition in the clear aligners provider space, companies need to ensure that they do not violate clinical and orthodontic protocols. It's a very thin line and very often to maximize the number of cases billed, it is noticed that some companies accept cases which are not ideal for clear aligners.
Also, extreme focus on cosmetics and aesthetics without respect for orthodontic principles is very dangerous. Eg. There have been cases where companies have advised a canine extraction to correct crowding. Also, some companies just work on the anteriors and do not take into consideration class 2 alignments.
It is important that you choose a company that does not violate orthodontic and clinical protocols in an attempt to maximize the number of clear aligners cases.
While these are some of the factors that will help you choose your clear aligners provider, it is also important to understand the process of case submission and delivery time.
The ODONTO Aligners Provider Program is the perfect way to start your clear aligners practice. You are provided a 3 day comprehensive training program which covers every aspect of the clear aligners treatment in detail.
You get a dedicated relationship manager who manages all your cases to ensure better outcomes. To register for the next batch of ODONTO Aligners Provider Program (APP) click here.
Build your successfully clear aligner practice with the 10 FAQs mentioned above. If you want any help to build your clear aligners practice, we can help you.
Visit odontoaligners.in to join as an ODONTO Aligners Provider Program (AAP). Call us or WhatsApp on+91 7506 0202 02or Email us oninfo@odontoaligners.in