Clear aligner therapy has emerged as a popular orthodontic treatment option, offering patients a discreet and comfortable alternative to traditional braces.
For dentists looking to expand their services and provide clear aligner treatment to their patients, it's important to understand the key considerations involved in integrating this treatment into their practice.
In this blog post, we will provide guidance for dentists on incorporating clear aligner therapy into their practice, covering topics such as patient selection, staff training, workflow integration, and marketing strategies.
Patient Selection:
Choosing the right patients for clear aligner treatment is crucial for successful outcomes.
Consider the following factors when selecting patients: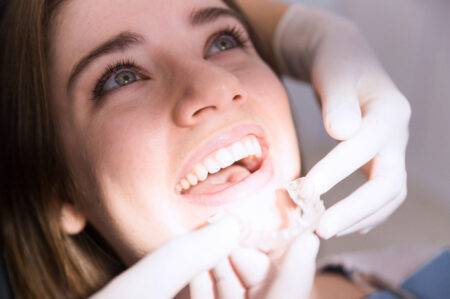 Malocclusion Complexity:
Assess the complexity of the malocclusion and determine if clear aligners are suitable for the patient's specific case. Mild to moderate cases, such as crowding, spacing, and minor bite irregularities, are often ideal for clear aligner therapy.
Patient Compliance:
Clear aligner treatment relies on patient compliance, as aligners must be worn for the recommended duration each day. Assess the patient's willingness to adhere to the treatment plan and maintain good oral hygiene practices.
Skeletal Discrepancies:
Clear aligners primarily focus on dental movements and may not be suitable for cases with significant skeletal discrepancies. Identify cases where adjunctive treatments or interdisciplinary collaboration may be required.
Staff Training:
Properly trained staff members are essential for the successful integration of clear aligner treatment into your practice. Consider the following training needs:
Aligner System Education:
Familiarize your team with the specific clear aligner system you plan to use. Ensure they understand the treatment process, aligner insertion and removal techniques, oral hygiene instructions, and common troubleshooting scenarios.
Treatment Planning:
Train your staff on the basics of treatment planning, including case assessment, digital scanning, and utilizing treatment planning software.
This will enable them to assist in the initial evaluation and preparation of clear aligner cases.
Patient Education:
Provide your staff with comprehensive knowledge about clear aligner treatment, including the benefits, potential challenges, and expected outcomes. They should be able to effectively communicate this information to patients and address their questions or concerns.
Workflow Integration:
Integrating clear aligner treatment seamlessly into your practice's workflow will optimize efficiency and patient satisfaction. 
Consider the following aspects:

Appointment Scheduling:
Allocate appropriate time for clear aligner consultations, progress checks, and aligner delivery appointments. Ensure your schedule allows for thorough discussions with patients and addressing their queries.
Lab Communication:
Establish clear communication channels with your aligner provider or in-house lab. Efficient communication ensures the timely delivery of aligners and facilitates collaboration for case-specific requirements.
Aligner Tracking System:
Implement a system to track and monitor patient progress throughout the treatment. This will help you stay informed about patient compliance, track tooth movement, and address any necessary adjustments or refinements.
Marketing Strategies:
Effectively marketing your clear aligner services will attract potential patients and drive practice growth. Consider the following marketing strategies:
Website and Online Presence:
Update your practice website to include clear aligner treatment information, patient testimonials, and before-and-after photos. Leverage social media platforms to share success stories and educational content about clear aligners.
Referral Networks:
Build relationships with local dentists, orthodontists, and other dental professionals who can refer patients for clear aligner treatment. Offer educational resources and establish yourself as a trusted clear aligner provider in your network.
Patient Education Materials:
Develop informative brochures, flyers, or videos that explain the benefits of clear aligners and highlight the expertise of your practice. Make these materials available in your waiting room and share them during consultations or through digital channels.
Community Engagement:
Participate in local events or sponsor community initiatives to raise awareness about clear aligner treatment. Offer free educational seminars or workshops to engage with potential patients and establish yourself as a knowledgeable provider.
At ODONTO, we understand the importance of supporting dentists in their journey to provide clear aligner treatment. Our comprehensive aligner solutions and educational resources are designed to empower dental professionals in delivering exceptional care and achieving successful outcomes.
By expanding your treatment offerings to include clear aligners, you can enhance your practice's reputation, attract new patients, and provide a modern orthodontic solution that aligns with patient demands. Embrace the opportunity to transform smiles and improve oral health through clear aligner therapy.