Aligners have become an increasingly popular orthodontic treatment option in recent years due to their convenience, effectiveness, and aesthetic appeal.
However, aligner treatment workflows can be complex and time-consuming, requiring careful planning and execution to ensure optimal results.
The good news is that technology has played an important role in streamlining aligner treatment workflows, making the process more efficient and effective.
Here are some of the ways that technology has helped to streamline aligner treatment workflows:
Digital Scanning:
Digital scanning technology has revolutionized the way that orthodontists collect patient data. Instead of traditional impressions, digital scanning allows for more precise and accurate scans of a patient's teeth and mouth.
This technology is also faster and more comfortable for patients, allowing for a more efficient and streamlined workflow. 
3D Modeling:
Once the digital scan is complete, 3D modeling technology can be used to create a detailed and accurate model of the patient's teeth. This allows the orthodontist to plan the treatment process more precisely, making adjustments as needed to achieve the best possible results.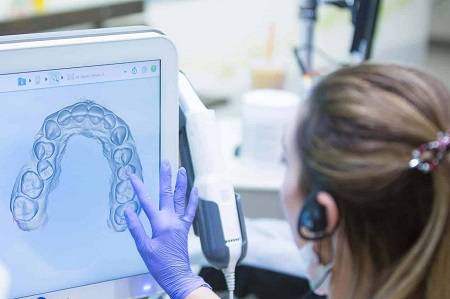 Treatment Planning Software:
Treatment planning software allows orthodontists to create a customized treatment plan for each patient. This software takes into account the patient's unique needs, including the severity of their orthodontic issues, the number of aligners needed, and the expected treatment timeline.
Treatment planning software can also be used to simulate the outcome of the treatment, giving the patient a better idea of what to expect. 
Aligner Fabrication:
Technology has also made the fabrication of aligners more efficient and accurate. Once the treatment plan has been created, aligners can be fabricated using 3D printing technology, allowing for a more precise fit and reducing the need for manual adjustments.
Remote Monitoring:
Remote monitoring technology has also been developed to allow orthodontists to monitor their patients' progress remotely. This technology allows patients to send progress photos and other data to their orthodontist, reducing the need for in-person appointments and allowing for more efficient monitoring of the treatment process.
In conclusion, technology has played a significant role in streamlining aligner treatment workflows, making the process more efficient, effective, and comfortable for patients.
Digital scanning, 3D modeling, treatment planning software, aligner fabrication, and remote monitoring are just some of the technologies that have been developed to improve the aligner treatment process.
By embracing these technologies and incorporating them into their workflows, orthodontists can provide their patients with a more streamlined and effective treatment experience.