Dental overcrowding and overbites are two common dental concerns that can be addressed using aligners. Here's how aligners can be used to treat these specific concerns:
Overcrowding:
Dental overcrowding occurs when there is not enough space in the mouth for all of the teeth to fit properly. This can lead to teeth becoming crooked, overlapping, or even impacted.
Aligners can be used to address overcrowding by gradually shifting the teeth into their proper position. As the teeth move, additional space is created, allowing the other teeth to shift into their correct positions.
Overbite:
An overbite occurs when the upper front teeth overlap the lower front teeth. This can cause issues with speech, eating, and even jaw pain. Aligners can be used to address overbites by gradually shifting the upper teeth back and the lower teeth forward.
This movement helps to bring the upper and lower teeth into proper alignment, resulting in a more balanced bite.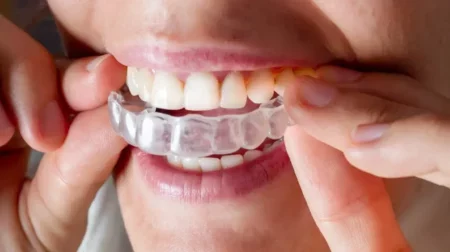 In both cases, aligners work by exerting gentle pressure on the teeth to gradually shift them into their correct positions. The aligners are custom-made for each patient and are designed to fit snugly over the teeth.
Patients wear the aligners for a specific amount of time each day and then switch to a new set of aligners as their teeth begin to shift.
The advantages of using aligners to address overcrowding and overbites include:
Aesthetics:
Aligners are virtually invisible, making them a more aesthetically pleasing alternative to traditional metal braces.
Comfort:
Aligners are made of a smooth, comfortable plastic that is less likely to cause irritation or discomfort than traditional metal braces.
Convenience:
Aligners are removable, making it easier to eat, brush, and floss. Patients can also remove them for special occasions or photos.
Efficiency:
Aligners can be just as effective as traditional braces in addressing specific dental concerns, and in some cases, may even be more efficient.
In conclusion, aligners can be a highly effective treatment option for addressing specific dental concerns such as overcrowding or overbites.
By gradually shifting the teeth into their proper positions, aligners can help patients achieve a more balanced bite and a more confident smile.
With their many advantages, aligners are becoming an increasingly popular treatment option for patients seeking to address their dental concerns.