Clear aligners have revolutionized orthodontic treatment by offering a versatile and convenient option for a wide range of patients, including special populations.
In this blog post, we will explore how clear aligners can benefit special populations, addressing their unique orthodontic needs and considerations.
Clear Aligners for Teens:
Aesthetic appeal: Clear aligners provide a discreet treatment option for self-conscious teenagers.
Removability: Teens can remove aligners for eating, brushing, and participating in activities.
Improved oral hygiene: Easy removal facilitates proper brushing and flossing, promoting better oral health during treatment.
Clear Aligners for Adults:
Professional appearance: Adults can maintain a polished and confident look without the visibility of traditional braces.
Convenience: Removable aligners allow for easy cleaning, eating, and attending professional engagements.
Compliance: Aligners are worn for the recommended duration to ensure treatment progress.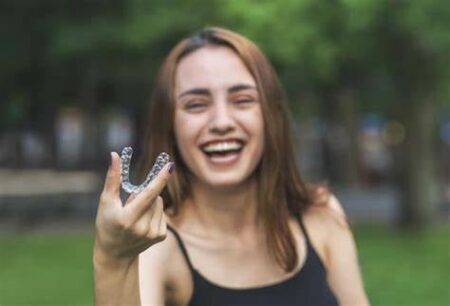 Clear Aligners for Older Adults:
Comfort: Clear aligners offer a comfortable and gentle treatment experience.
Oral health benefits: Proper alignment reduces the risk of gum disease and tooth decay in older adults.
Aesthetics: Clear aligners allow older adults to achieve a straighter smile without the stigma of metal braces.
Clear Aligners for Patients with Dental Restorations:
Compatibility: Clear aligners can be customized to accommodate existing dental restorations such as crowns, bridges, or implants.
Preservation of restorations: Aligners help maintain the integrity and longevity of dental restorations during orthodontic treatment.
Enhanced esthetics: Clear aligners provide a seamless and natural-looking treatment option for patients with visible restorations.
Clear aligners offer numerous benefits for special populations, including teenagers, adults, older adults, and patients with dental restorations. They provide aesthetic appeal, convenience, comfort, and the ability to maintain oral hygiene.
By addressing the unique needs of these populations, clear aligners offer a tailored orthodontic treatment option that enhances both oral health and confidence.
Consult with an orthodontic professional to determine if clear aligners are the right choice for you or your loved ones in these special populations.